David Daye's Bagpipe Page
2011 September 24 -- Youtube Instructional & Technical Videos
2010 November 23 -- New Highland Bass Drone Project Ready
http://www.dayebagpipe.org/
My old email at osu.edu is closed. To email me click here or go to my daye1.com web site.
I've taken the new bass design as far as I can. I won't say that this beats the very best historic instruments, but it's definitely a step up from several commonly available makes I've owned. It has plenty of bass power, less noise and an appealing harmonic voice. The bore is more complex than historic Highland bores which I feel gives a maker more to work with in developing tone.
Click here for the New Highland Bass Drone Page.
Since I won't be making Highland pipes for sale, I'll be posting the design data and a very easy home-build brass tube, plumbing pipe and tape construction method here during the week ahead. I'm sure the large Highland player, maker and experimental community can get even more out of these ideas if there's more to be had.
Here's a sound sample of a prototype made outdoors at about 17 meters away, slowly moving and turning. It's early 80's concert B-Flat pitch, with Naill tenors and a War-Mac chanter. The design will scale to any pitch from folk tuning at 440 to the current contest 480's or whatever. A somewhat clearer sounding, large slow-loading version of the file in the less compressed .WAV format is here.
There's no processing of the sound except to reverse the published high frequency response boost of the microphones, and converting to the MP3 or .WAV formats.
2009 April 02 Resurrection
Over the coming days and weeks I will be repairing links and updating these pages after 11 years' neglect. At the time Ohio State University took the site offline, it was still ranking around 24 in Google among 2/3 million bagpipe sites of all categories combined, 9-10 years after my last edits. It'll never again return to a high ranking, but I get quite a few requests for it regularly so I'm restoring it to a site under my control and will keep it available for some time to come. Thank you all for your continued interest!
Click Here for David Daye's uilleann pipe making and performance site at daye1.com.
Newest Revision November 2010 marked with ***
Under the Uilleann Pipes Home Building Page
Copyright 1994, 1995, 1996, 1997, 1998, 2000, 2009 David C. Daye
Feel free to copy any and all portions for individual desktop use and/or your individual study of piping. You may not republish all or portions of this collection in any form, or distribute it in any form, without permission. You must obtain permission for each item you wish to use even if I have already permitted any use in the past. You may establish electronic pointers or links to this page.
For info, problem reports, etc. email CLICK HERE
---
Table of Contents
Top of Bagpipe Page
---
Youtube Video Collection
Introductory Playing Videos for Brand New Uilleann Pipers
Maintenance and Technical Instructional Videos for Uilleann and Other Bagpipes
---
Photo Gallery
"Yep, they're me!"
The Scottish Highland Bagpipes and the Irish Uilleann Pipes. Photos copyright 1992 Beth Ann Daye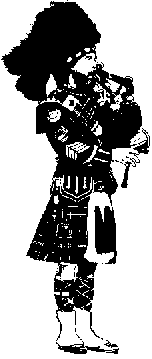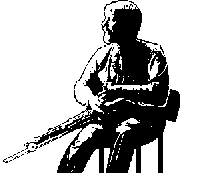 Top of Bagpipe Page
Miscellaneous Photos
Top of Bagpipe Page
---
Sound files of David playing Highland and uilleann pipes
All the sound files are in Windows .WAV format, 16-bit mono sound. Several are sampled at 11 KHz, somewhat muffling the top end or treble a bit. 3 are sampled at 22 KHz because I'm trying to illustrate tone. This makes them potentially large (sorry) so I kept the durations rather short (a few bars).
Diagnostic sound samples, Highland & uilleann pipes
MIDI tunes and exercises for uilleann pipes by Robert Thorpe
Modified Highland pipes - key of A-440
Standard Highland pipes - key of B-flat

Short studio samples of 2 fine Uilleann pipe chanters

Uilleann pipe & Irish miscellaney

Other sound files: SETI (Sounds of Extra Terrier-estrial Intelligence)
---
Assorted Pipe and Reed Modifications
ALL all types of bagpipes
GHB Great Highland or Scottish bagpipes
SP Scottish or analogous bellows-blown smallpipes
UP Irish uilleann pipes
Common or Plausible Ideas
Photo of base (drone end) of reed shown in diagram showing inner and outer tubes (12 KB)
Photo of side view of tongue (25 KB) -- .020" thick styrene tongue. MM ruler shown, 0 is at base of reed
Photo of face view of tongue (16 KB) -- note outer body end was sealed with 5-minute thick epoxy
Ravings from the Lunatic Fringe
Abandon Hope, All Ye Who Enter Here
---
Miscellaneous Intriguing Ideas
---
Instructional Help for Highland & Uilleann Pipes
A separate web page with extensive notes on the pitfalls of self instruction in the demanding traditional Highland bagpipe style. Discusses tools for assessing progress, ideas for practicing and improving technique, links to some of the illustrations listed below. Not a tutor, rather a guide to be used with any of the fine tutors available on the market.
Miscellaneous Diagrams and Instructional Notes
---
Stories -- Tall Tales from Piping's Frontier
If it didn't happen exactly as I've told it, then it should have!
Links to other Bagpipe- and Celtic-related services
ABC Music Page Tunes written in easy short-hand.
Arundo Donax Facts from the Double-Reed web site
Augusta Center, W. VA., home of Irish Week and other folk music workshops.
Bagpipe Music Writer Tunes (David Williams' page) tune files for Bagpipe Music Writer software
The Bagpipe News Group:

A "usenet" discussion group for all bagpipes: REC.MUSIC.MAKERS.BAGPIPE

Bagpipe Teachers List.
Balmoral School of Highland Piping - Great summer school for serious bagpipe instruction.
Ceilidh Trail Celtic Music School, Cape Breton, Nova Scotia
Central Ohio Celt Page
Ceolas Celtic Music Archive & Links
Chicago Tionol Uilleann Pipe Workshop and Gathering, September 1998
Chris Langan Uilleann Workshop (Tionol) January 1999
College of Piping [ GHB Highland bagpipes ] in Glasgow, Scotland
Comhaltas (USA) traditional Irish music society events & activities.
Comhaltas (Mayo, Ireland) traditional Irish music society events & activities.
Daughters of Erin Page
Dennis Havelena's instrument and pipe building pages
Edinburgh Festival '96 Home Page.
Edinburgh Festival '96 Unofficial Home Page.
EDINBURGH UNIVERSITY COLLECTION OF HISTORIC MUSICAL INSTRUMENTS
Gaelic Home Page.
Highland Bagpipe Chanter Reed Making by Gordon Spiers -- Text files etc.
International Double Reed Society Home Page
Irish Pipe Band Association Home Page
Irish Pipers' Club (US Northwest) Home Page
Making Bagpipes by Casey Burns
Building a Northumbrian Smallpipe Page by Mike Nelson
Na Piobairi Uilleann Home Page The uilleann pipers' club in Dublin, Ireland
Ohio Scottish Games and School
Pat D'Arcy's Uilleann Pipe Page
San Francisco Uilleann Pipers' Page
Seth Gallagher's Uilleann Pipe Reedmaking Page
Swedish Bagpipes (what next--the Finns?)
Uilleann Penny-Chanter Products Page
Uilleann Pipe Fact List.
Uilleann Pipe Description by Todd Denman
The Uilleann Pipe Mailing List Moved to Ireland February 2001:

A discussion group for uilleann piping, much like the main Bagpipe newsgroup.
Send e-mail to LISTSERV@listserv.heanet.ie
No subject line. (Ok to put something there.)
Message simply: subscribe uilleann Firstname Lastname
To subscribe now, review these instructions and Click here

West Coast Uilleann Gathering (Tionol) February 1999
Willy Clancy Summer School (in Ireland) of Irish Piping and Music
Top of Bagpipe Page
---

Return to Beth & David's Home Page
Bottom of David Daye's Bagpipe Page